Our daily lives have to be a satisfaction in themselves
$

35.00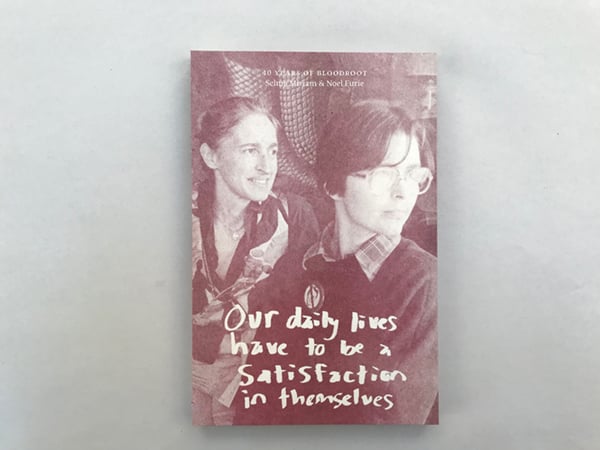 *** The FIRST PRINTING is now SOLD OUT! ORDERS PLACED NOW ARE PRE-ORDERS FOR SECOND PRINTING. The expected ship date is fall 2018. Thank you so much for your interest in this book, and for your patience! ***
An award-winning handmade book documenting 40 years of Bloodroot, the legendary feminist vegetarian restaurant and bookstore in Bridgeport, CT.
But even if you've never heard of Bloodroot, this book is still for you if you're interested in:
second wave feminism, vegetarianism, work collectives, fiber arts, the 1970s, seasonal eating, female-centered spirituality, autobiography, growing food, the 1980s, independent bookstores, worker-owned restaurants, veganism, feminist businesses, the 1990s, global cooking, feminist theory, utopian movements, personal-political essays, the 2000s, debunking health fads, lesbian culture, radical suburbia, photographs by women of women, the 2010s. The annotated margin notes on nearly every page comprise a suggested reading list for many (if perhaps not all) of these topics.
This book may also be of interest if you like:
books made from archives; risograph printed books; books designed with contemporary typefaces, books printed entirely in the color burgundy, books edited, designed, printed, and hand-bound by the artist-publisher; Bridgeport books; Connecticut books; first editions; books with pictures of cats in them; books that have won fancy design awards.
Contents include:
introduction / my personal history with Bloodroot
Bloodroot chronology
Building Bloodroot (photo essay)
Bloodroot: Brewing Visions
Introduction to the Political Palate
Some Notes on the Passage of the Seasons
Feminism in the Eighties
Ethical Vegetarianism
On Collectivity & Work
A Witch Recipe for Grievers
Part-time Bloodroot (photo essay)
On Persistence & Feminism
Her Life & Mine
A Consideration of the Domestic Arts
and over 70 of Noel Furie's original photographs of Bloodroot and friends, including feminist luminaries Audre Lorde, Adrienne Rich, Mary Daly, Billie Potts . . .
144 pages